Design the drill pattern
Set up the drill pattern using your preferred method.
Note:
Ensure subdrill and floor elevations are set correctly as shot volume will exclude subdrill

You may need to enter a backbreak value > 0 when setting up the AB line. If you want to set it to 0 you can still do this by adjusting it later on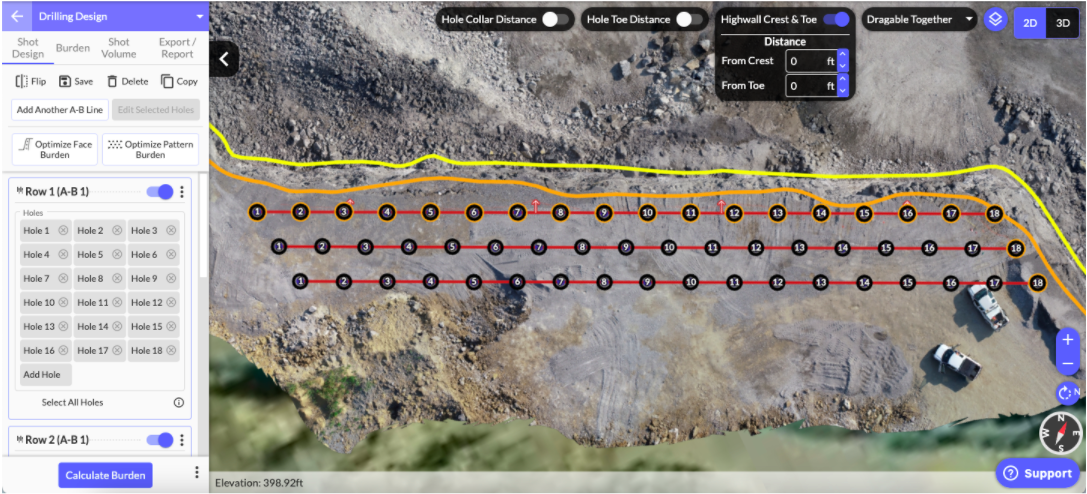 Navigate to the Shot Volume tab
Click the tab in the sidebar labeled "Shot Volume"
Ensure Highwall Crest and Toeline are Accurate
If the highwall crest and toe are not already visible, turn them on using the toggle at the top of the map.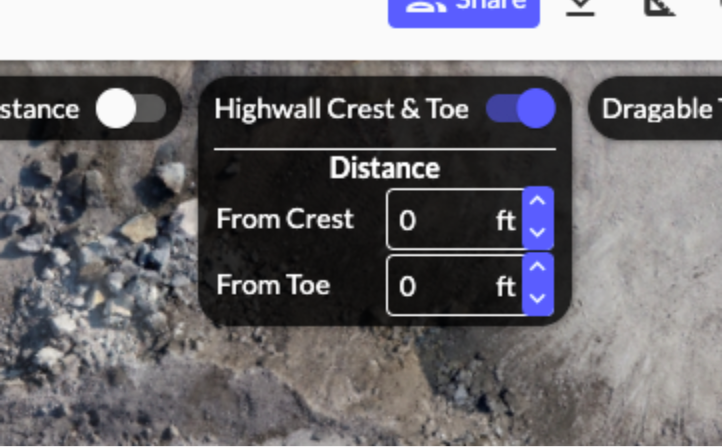 Check that the crest and toe lines are complete and accurate. If they are not, then edit them by clicking on the "Edit Highwall Crest and Toe" button in the sidebar.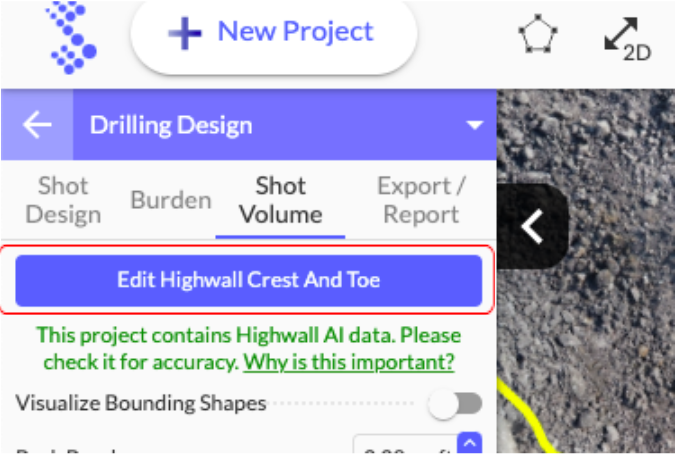 This will bring up a set of controls in the toolbar that you can use to edit, add or delete crest and toe lines.
Ensure you click the Tick icon when you are finished editing to save your changes

The pencil icon lets you drag the corner points of existing lines. (Alt-Click deletes points on a line, this can be useful for smoothing out lines)

The + icons add new lines

The trash icon deletes a selected line

Set backbreak
In the sidebar, turn on "Visualize bounding shapes" and set the "Back Break" number to the desired distance. (For no back break, set the number to 0)

Note: If you have set the backbreak to 0 You should notice that there is no backbreak being added around the boundary of the shot. You can check this by turning on the "Visualize Back Break Area" toggle and confirming that no area is highlighted. E.g.

Generally you should leave the advanced options on their default settings which are
"Detect highwall by highwall data" = on

"Detect highwall by plane" = off

Read the shot volume number
The shot volume number is the number labeled "Total" in the sidebar: