Speed up your drill planning and shot layout process by using Strayos newly introduced optimum burden algorithm approach. Shot layout automation feature that allows to automatically adjust hole parameters such as bearing, inclination, toe displacement, hole length based on your Optimum burden input. This allows you to quickly plan drill hole placement and inclination for a specified minimum or optimum burden.
How to use the feature(Freeze Crest version):
Select a hole.

Go to the

Properties

tab.

Submit the

Adjust Hole for Optimal Burden

form by clicking on the

Adjust Hole Parameters

button.

Wait until the adjustment of hole is done.

Bearing, inclination, Toe Displacement, Hole Length gets updated based on adjustment.
Benefits:
Users no longer need to spend a long time changing the bearing, and inclination when they want to meet certain optimal burden criteria. They just need to submit the optimal burden they want to have and the algorithm will automatically adjust the bearing and inclination meeting the optimum burden criteria.

When the optimal burden form is submitted, the algorithm will make sure that the holes are not drilled on the bench face.
How the optimum burden algorithm works(Freeze Crest version)
Set bearing and inclination of hole to zero. Calculate the average 3D burden direction, set it as bearing and increment the inclination until it satisfies the optimal burden and minimum burden requirement. If the user doesn't specify minimum burden, it auto calculates as 20% of optimal burden. Satisfying optimal burden means it has lowest possible accumulated deviation of 3D burden value of each borepoint of hole from optimal burden value and satisfying minimum burden means 3d burden of each borepoint of hole should have 3D min burden more than specified minimum burden. Neglect stem indicates that the stem height specified will not be considered while doing above optimization. View hole profile gets enabled after doing all this.
How to use the feature(Freeze Toe version):
Select a hole.
Go to the Properties tab.
Submit the Adjust Hole for Optimal Burden form selecting freeze toe and clicking on the Adjust Hole Parameters button.
Wait until the adjustment of hole is done.
Bearing, inclination, Toe Displacement, Hole Length gets updated based on adjustment.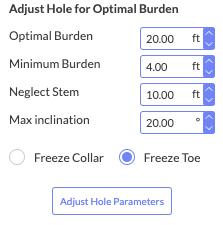 Points to remember:
Set toe plane elevation correctly to have optimal burden satisfied correctly.
IMPORTANT: Use max inclination appropriate to the dataset as it affects the performance and optimal burden result when using freeze toe feature. For example, if you know that the inclination cannot exceed 25 degrees, specify it as max inclination which would expedite the hole parameters adjustment process.
Freeze toe feature is dependent on the highwall detection. So, using this feature when the nearest highwall detected is recommended.
Warnings:
After adjusting all holes of a row with optimal burden, shotplan will be modified if you use 'Select All' holes and cannot be undone. Be cautious before using the 'Select All' feature as it changes the inclination and bearing to all the holes which may not be desired for you after adjusting all holes with optimal burden.
Remember that when you use the Freeze Toe feature for all holes in a row, the hole collars are modified and you cannot accurately move collars to the original position because it is a manual process. However with freeze collar feature, toes are moved and if you want toes to come back to the original position, select all holes and insert the bearing and inclination as zero.