The Cut Fill analysis tool allows you to quickly compare the change in elevation, areas and volumes from one dataset to another dataset or to a design surface (grade plan). With cut-fill colorized visualization, you can create a surface style that highlights positive and negative elevations to colorize the cut and fill areas throughout a project site or individual blast site or stockpile. Once these areas have been defined, a custom spot elevation label style could be used to identify the amount of cut and fill going on in these areas. This helps builds better monitoring, verification and tracking for Blasting & Rock Excavation quantities for mass excavation and earth-moving activities.
Cut Fill Visualization
Open a dataset and select Cut Fill Analysis from the menu.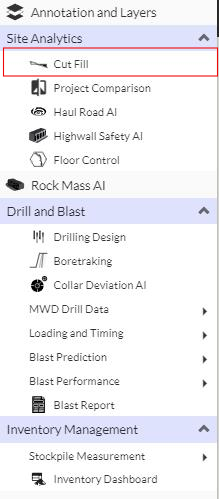 Enable the cut-fill toggle and you will see a default source layer "DSM" which is used to calculate the cut-fill data points. When you select the comparison project type, a heatmap layer will appear on top of the map you are viewing which shows the elevation difference between that dataset and another dataset within the project. Switch option is provided to switch your comparison project when you have multiple data sets with different dates.
To be able to process the Cut-Fill analysis for your most recent dataset in comparison with your already loaded map on the screen, you can choose between the comparison type as well as the comparison project in the menu shown below:

Strayos platform provides several ways to represent the compared data for CutFill analysis:
Existing datsets
External DXF file with contours
Choose the option "Another Dataset" and in the next drop-down list "Comparison Project" choose your desired project that you want to compare and see cut-fill analysis.
After a few seconds, cut-fill visualizations will be displayed on the map. When comparing to a previous dataset, areas that have been excavated from the previous date to the viewed dataset will be labeled "cut", indicating that the earth has been "cut out", and areas, where it has been elevated, will be labeled "fill", indicating where the earth surface has been "filled in".
In a nutshell, a Cut-Fill comparison of two datasets demonstrates the following - if a volume has been removed it is highlighted in red color(CUT). If volume has been added, it highlighted in blue color(FILL)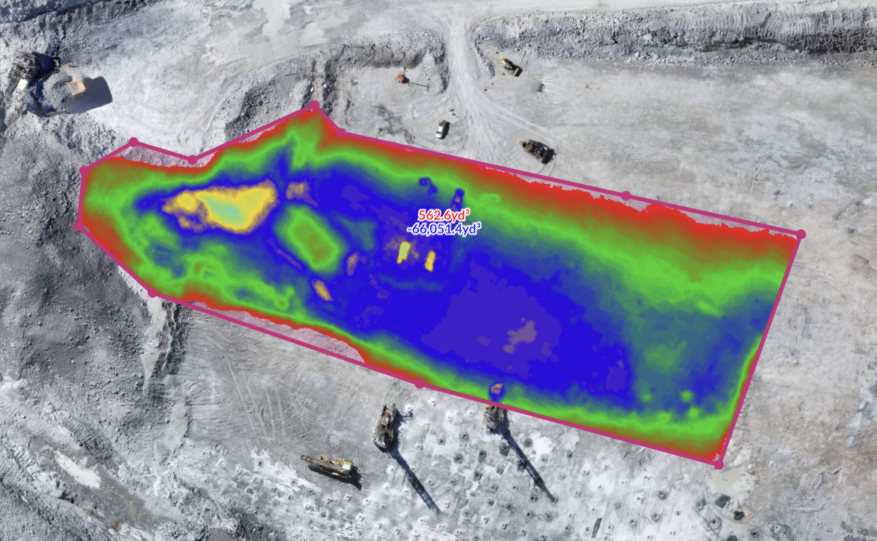 Export Cut fill results

Export High resolution printable PDF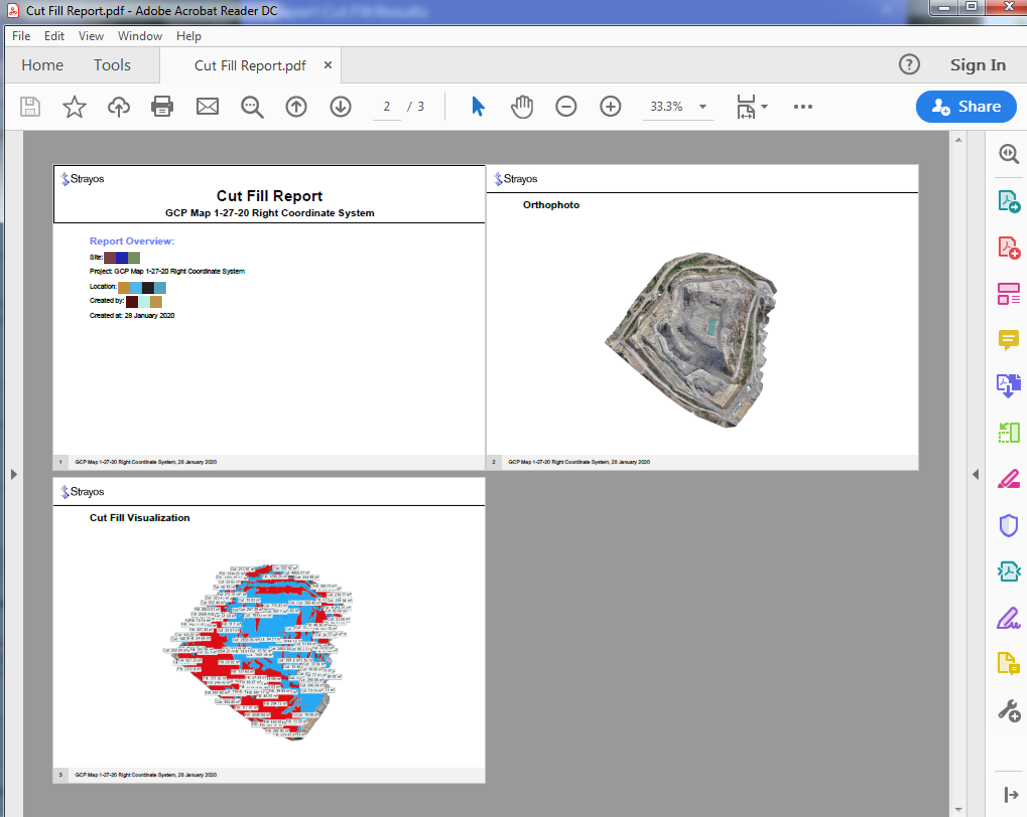 STEPS TO OPEN DXF FILES IN CAD SOFTWARE
Once you export the DXF files you can locate them on your computer and open them in CAD software. We will use below files shown in the screenshot as an example.

Analyze terrain changes in CAD-software manually
Before reviewing the digitized terrain's changes obtained by Cut-Fill analysis, let's check what we have at the initial state. Let's review the contours of different datasets in CAD software.
Open your favorite CAD software and create two additional layers "28 Jan 2020" and "04 Feb 2020" for two datasets respectively. For visualization purposes change the "Color" property of these layers to "Green" and "Dark Blue".
From the unzipped file "contour_28Jan2020_EPSG3857_1.000.zip" import DXF-file to layer "28Jan2020".
This is contours(defined in EPSG:3857, elevation defined in meters) from dataset gathered on 28Jan2020 (first w.r.t timeline of two datasets)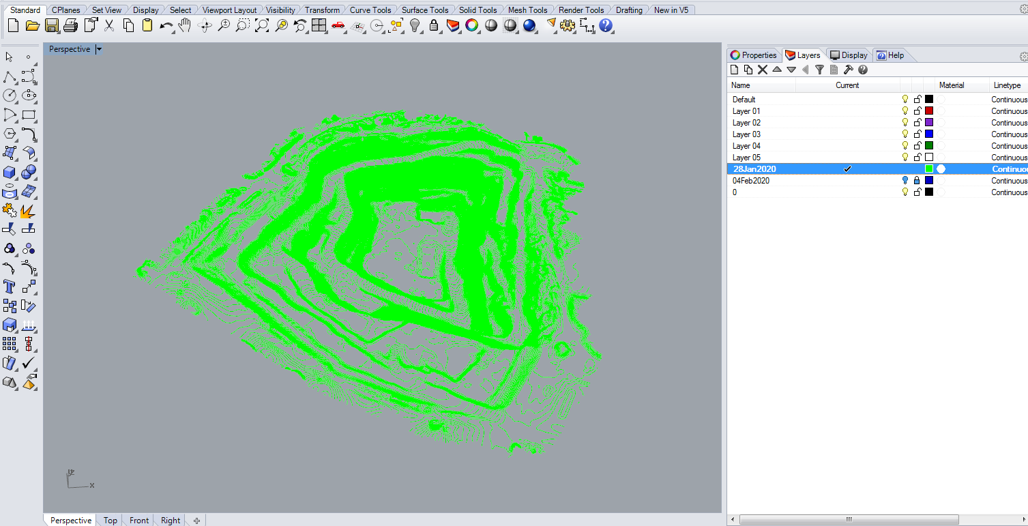 From unzipped file "contour_04Feb2020_EPSG3857_1.000.zip" import DXF-file to layer "04Feb2020".
This is contours(defined in EPSG:3857, elevation defined in meters, the same as first dataset) from dataset gathered at 04Feb 2020 (second w.r.t timeline of two datasets)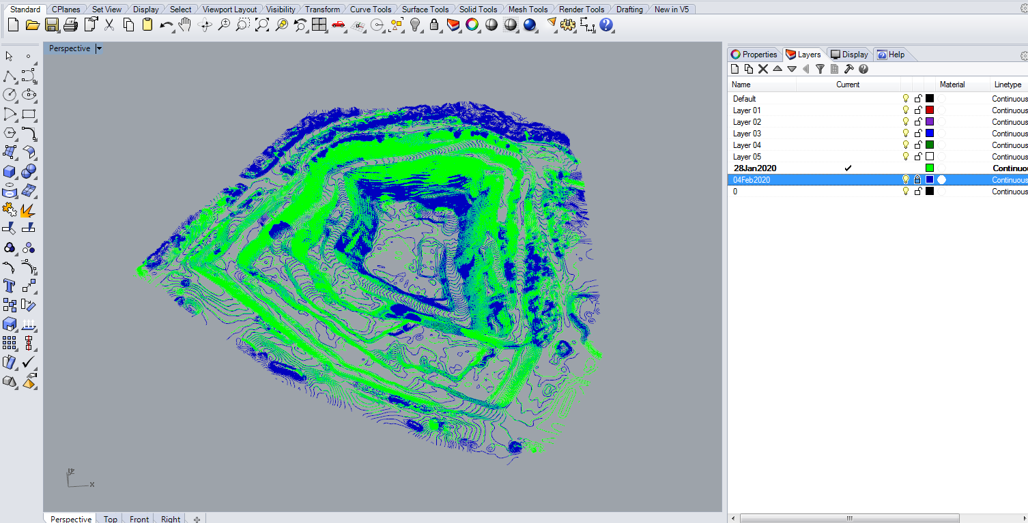 Contours colored Dark Blue represent terrain which gathered AFTER terrain colored in Green color.
Let's look more closely at areas that have differences in terrain. View tuned by some slope to the ground to be able to find out the terrain changes. Highlight some of the terrain local changes in red arrows: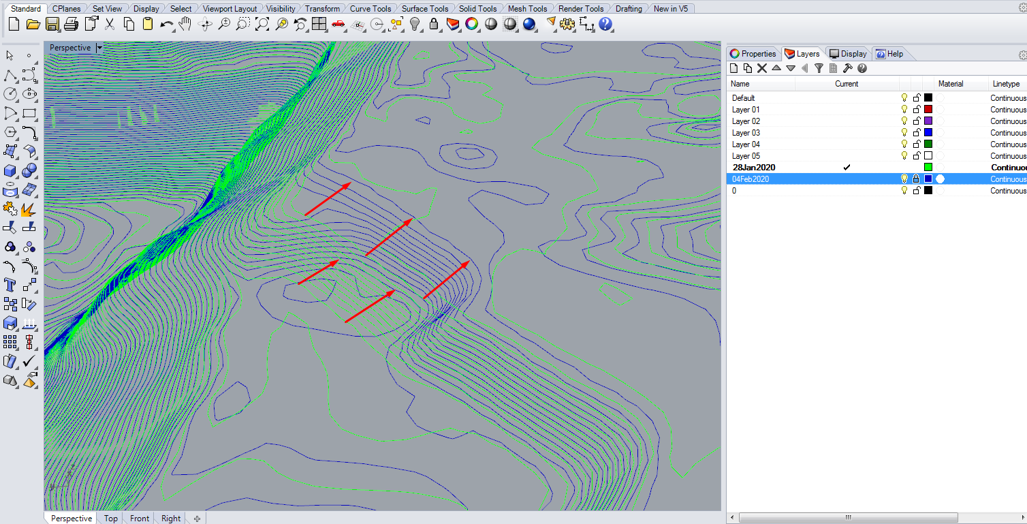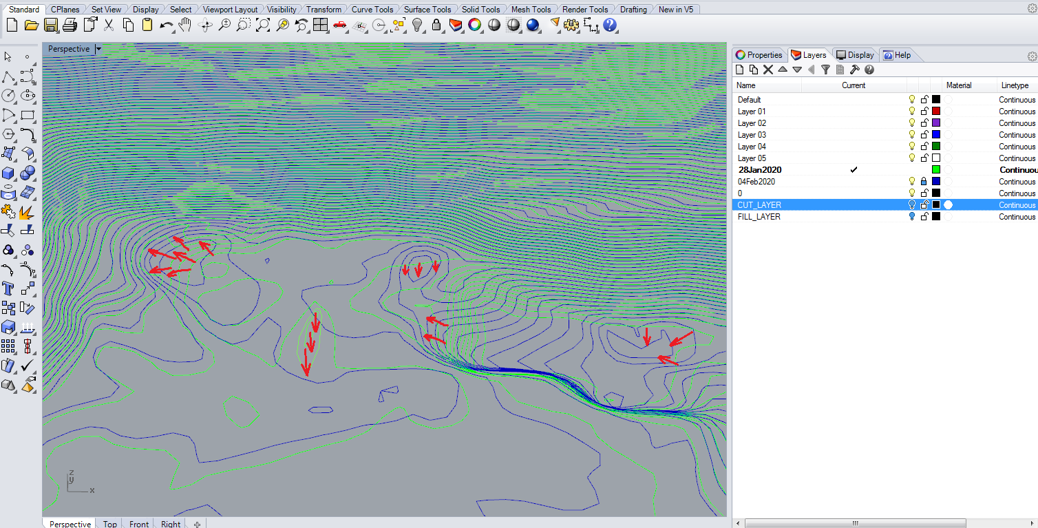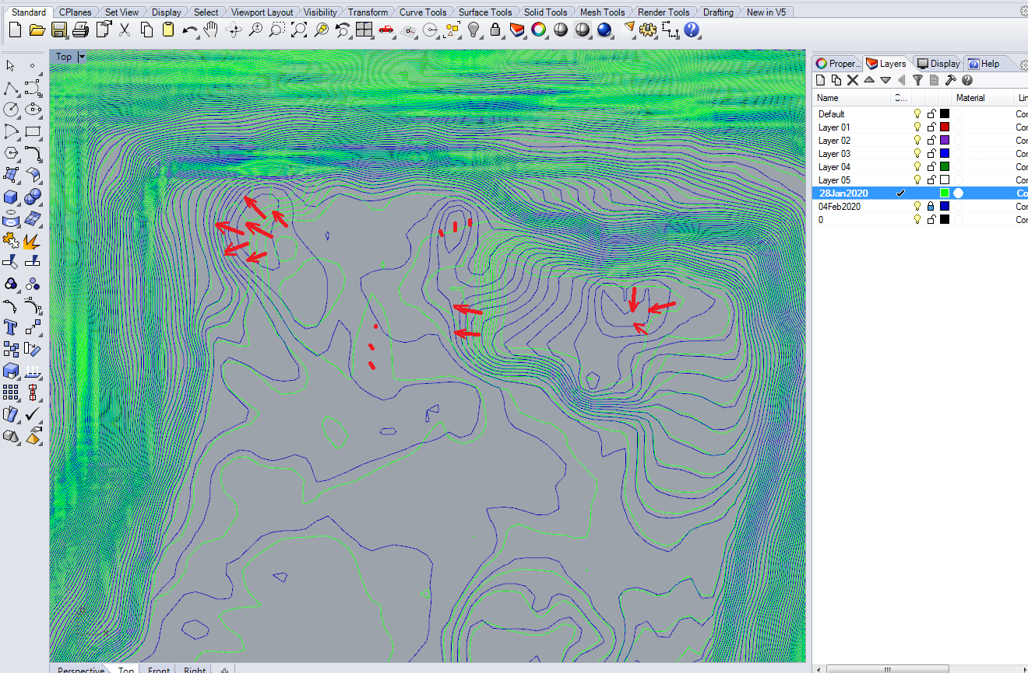 You will notice that we've pointed to terrain changes where volume has been removed(not added). We can see how a couple of small piles have been flatted, moved couple of walls, and one recess in the flatted surface is formed. These areas refer to CUT-volume.
Compare results of Cut-Fill analysis and contours in CAD-software
To simplify the comparison of Cut-Fill results with contours in CAD-software prepare the visualization in Strayos-platform.
Close the CutFill feature, return to the main view, and select "Annotation & Layers" from the menu.
Go to the "Layers" tab and make the following changes:
Disable "Orthophoto"
Enable "Contour 1.000 m"
Choose "No Base Map" in the "Layer Switcher" button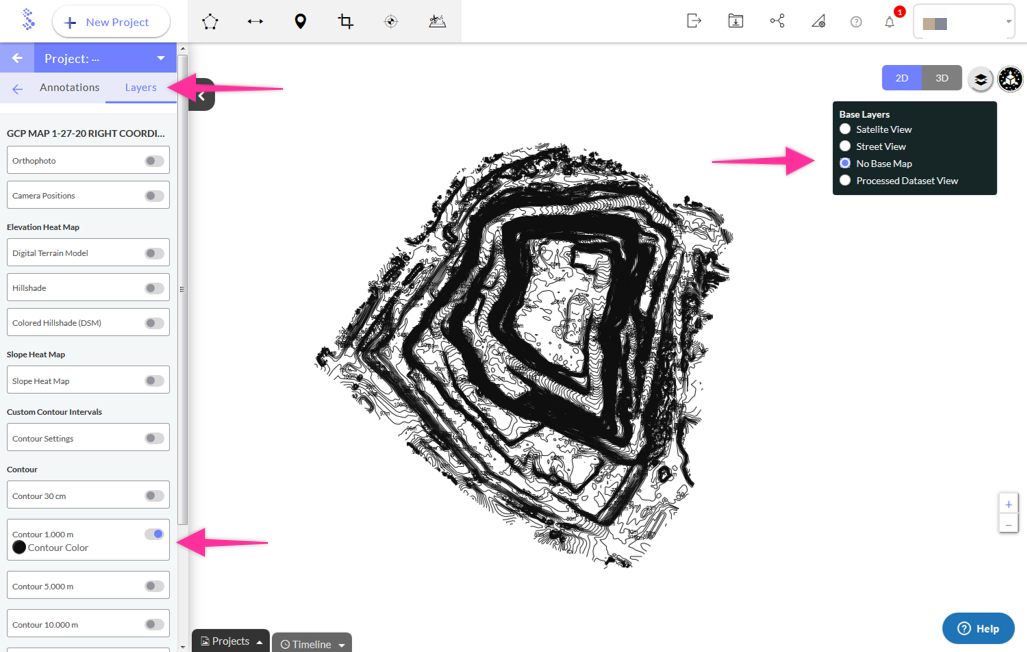 Zoom in Strayos main contour view to match with the data in the CAD software. Green contours in CAD software correspond to contours in the main view of the Strayos platform. Changes in terrain areas between two datasets are highlighted by red circles.
Create CutFill analysis with the same projects as we did with steps above and look at results in Strayos.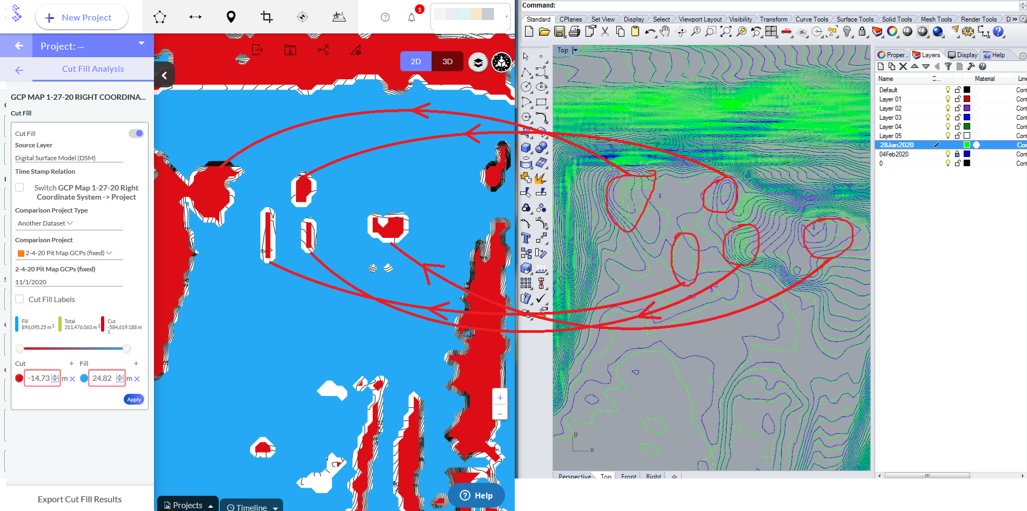 Strayos Cut-Fill analysis highlighted CUT volumes by red-color and they matched with circles where we have found CUT volumes during manual review contours in CAD-software.
But we can avoid manual contour analysis in CAD and obtain CUT and FILL volumes just by importing them to CAD software.
Let's return to CAD, and import "cut_fill.dxf" from the folder with results to model with existing contours.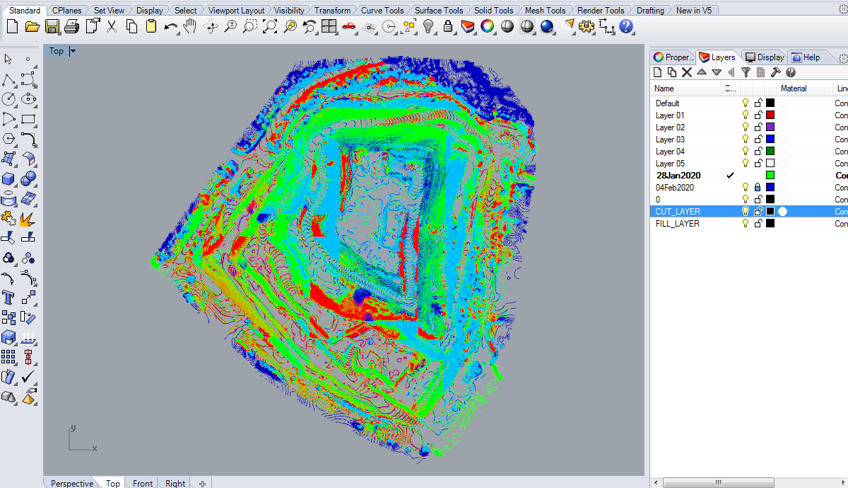 Here we have the following data:
Terrain contours from 28Jan2020 in corresponding layer with Green color
Terrain contours from 04Feb2020 in corresponding layer with a Dark Blue color
Contours of CUT-volumes in newly created layer "CUT_LAYER" with Red Color
Contours of FILL-volumes in newly created layer "FILL_LAYER" with Blue Color
File "cut_fill.dxf" exported as results from Cut-Fill analysis contains contours for Cut and Fill volumes, stored in separate CAD layers.
Zoom in CAD-view to the same area which we've just analyzed. Disable terrain layers and leave only CUT/FILL geometry. We can see that CAD software contains the same results. Red-colored contours of CUT volume in CAD-software matched with Red-colored areas in Strayos platform. As well as Blue-colored contours of FILL-volume in CAD software matched with Blue-colored areas in Strayos platform.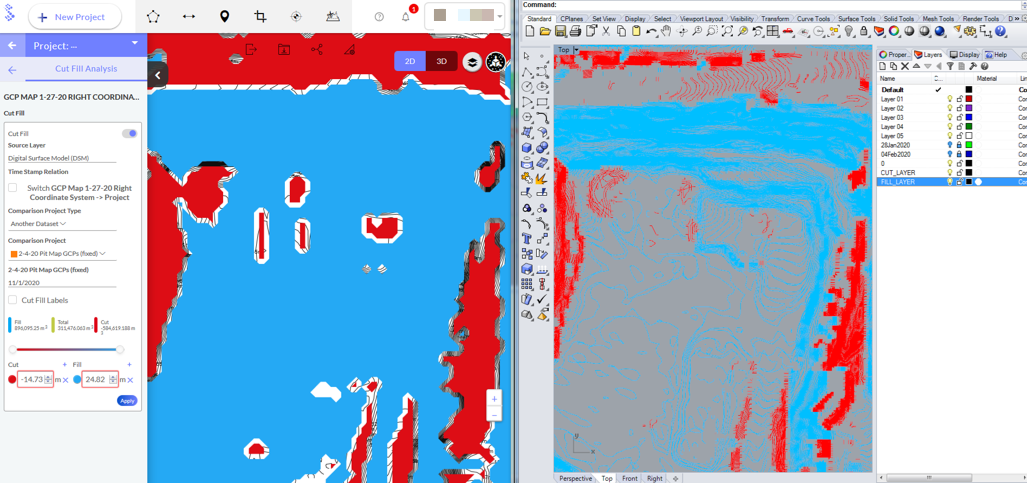 This will allow us to easily find and analyze CUT and FILL volumes on the 3D model.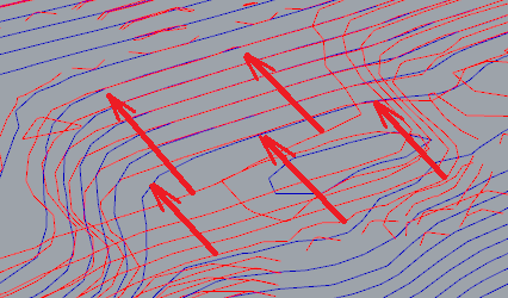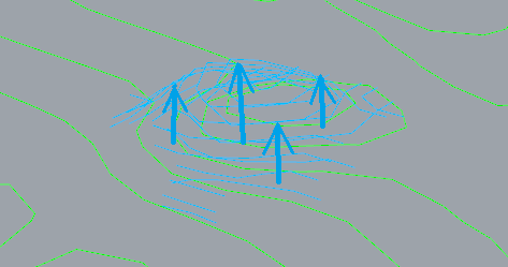 Compare your Project Elevations to Design Surface(Grade plan)
Upload the design surface in DXF format and then compare it against your drone projects to analyze the cut-fill results.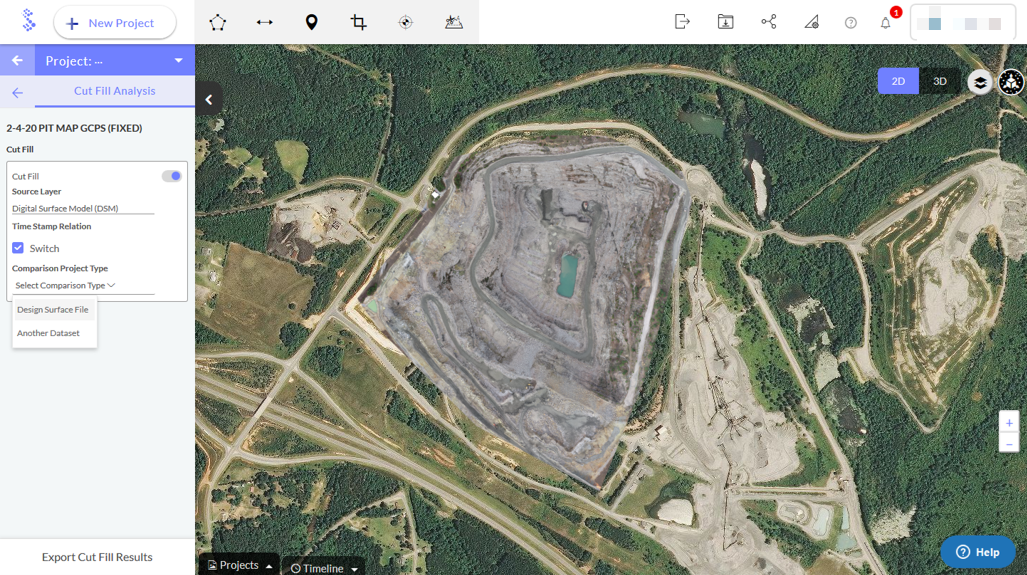 Select "Design Surface File" from the drop-down list "Comparison Project Type". This time we will compare with an external DXF file instead of another dataset.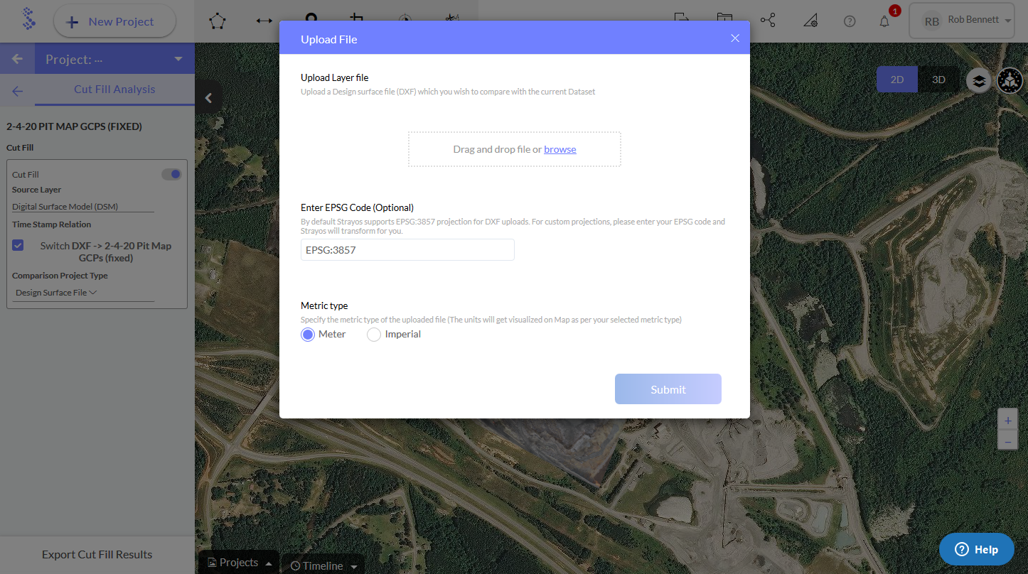 Browse (or drag-n-drop) DXF file from unzipped file "contour_28Jan2020_EPSG3857_1.000.zip" and click "upload".
Specify coordinate system which used for geometry definition in imported DXF file. User should be aware with EPSG and elevation Units that was utilized during exporting DXF.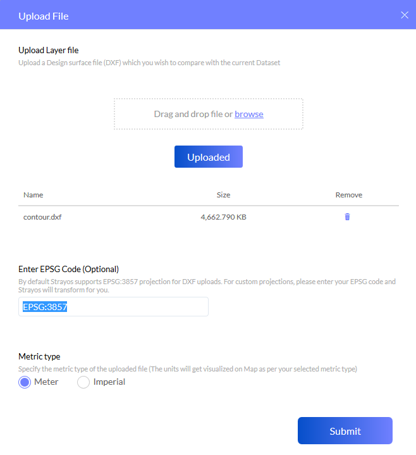 It will take few seconds to process the DXF file and the visualization will be displayed in the map