Introduction
The Muckpile AI module allows you to view an automated report on muckpile movement and cast. The muckpile is automatically detected by AI and analysed in a series of cross sections.
Capturing the data
Fly a drone over the muckpile and capture a set of overlapping images. We generally recommend flying 20-80m above the muckpile and using an autopilot app for flight planning.
It is not critical to use Ground Control Points or RTK/PPK survey control for Muckpile Analysis, however it is recommended that you mark a point on the ground that is visible in both the pre-blast and post-blast drone surveys. This will be used to calibrate the elevation of the models to align the design holes with the muckpile.
Uploading the data
Click "New Project", then select "Upload JPEG Images".
Enter the details for your project and ensure that you toggle on "Post-blast: Fragmentation and Muckpile AI"
If you have a pre-blast shot design in Strayos then you should select it from the dropdown box.

(Optional) Calibrating the elevation
If you are not using GCPs or RTK/PPK survey control, then you will need to calibrate the elevation of the post-blast and pre-blast projects for some features to work.
This can be done by
Navigating to the pre-blast project
Creating an annotation point over a point that is visible in both models

Recording the elevation of that point
Copying that point to the post-blast project
Navigating to the post-blast project
Using the "Calibrate elevation" tool to set the elevation of that point to that of the pre-blast model
Viewing the analysis
The AI will detect the muckpiles and process the analysis automatically when you upload the data.
Once processing is complete, log back in and navigate to the "Muckpile AI" module in the "Blast Performance" Folder in the sidebar.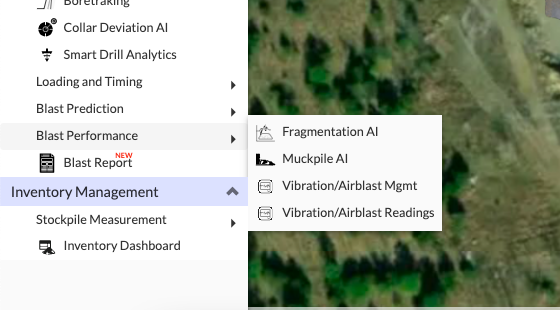 Once in the module, toggle on the muckpiles to view the analysis for each one. Generally, the top muckpile in the list will be the most relevant.
You can edit a muckpile by dragging the corners of the polygon.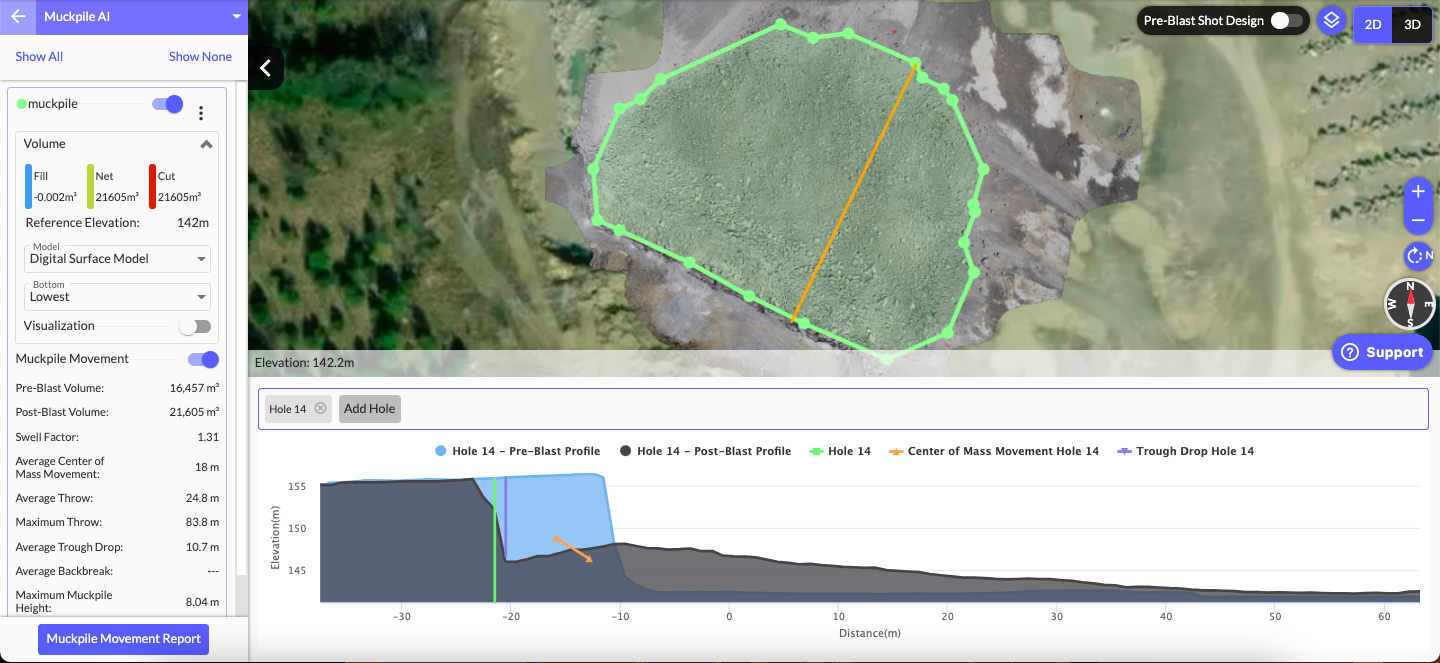 It is important to set the "Bottom" plane of the muckpile to match the floor of the shot. It is usually best to use "Manual" and set the elevation to the Floor Elevation of the shot design.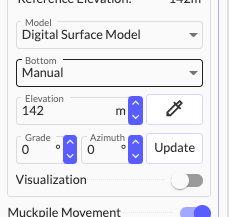 You can toggle on the pre-blast shot design to ensure that your models are aligned.
The cross sections will be generated based on the back row of holes in the shot design so it is important to make sure that holes are assigned to the correct rows in the pre-blast shot plan.
Now you are ready to read the results of the analysis. These can be found at the bottom of the sidebar.
The cast analysis is optional and requires you to enter the "Spoil pile angle" of the low wall. It will automatically create a cast line starting at the toe line of the shot design.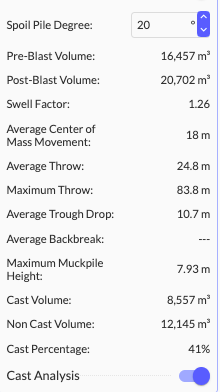 The graph can be used to view an overlay of the pre-blast and post-blast bench

The muckpile movement report allows you to print or share a custom report created from the analysis. It includes:
a summary page showing the statistics and the locations of the cross sections
individual diagrams for each cross section