Strayos provides an extremely easy way to visualize the burden analysis results, analyze the bench face and organize burden reports.
Strayos' burden analysis tool calculates the 2D and 3D minimum burdens for each borepoint in the hole.
3D minimum burdens: For each borepoint, the app looks through all the points on the model to find closest point in a 3D spherical range of points. Thus 3D minimum burden is calculated based on this closest point and will be the smallest burden for that particular borepoint.
2D burdens: For each borepoint, 2D burdens are calculated for the points directly in front of borepoint which lie on the face.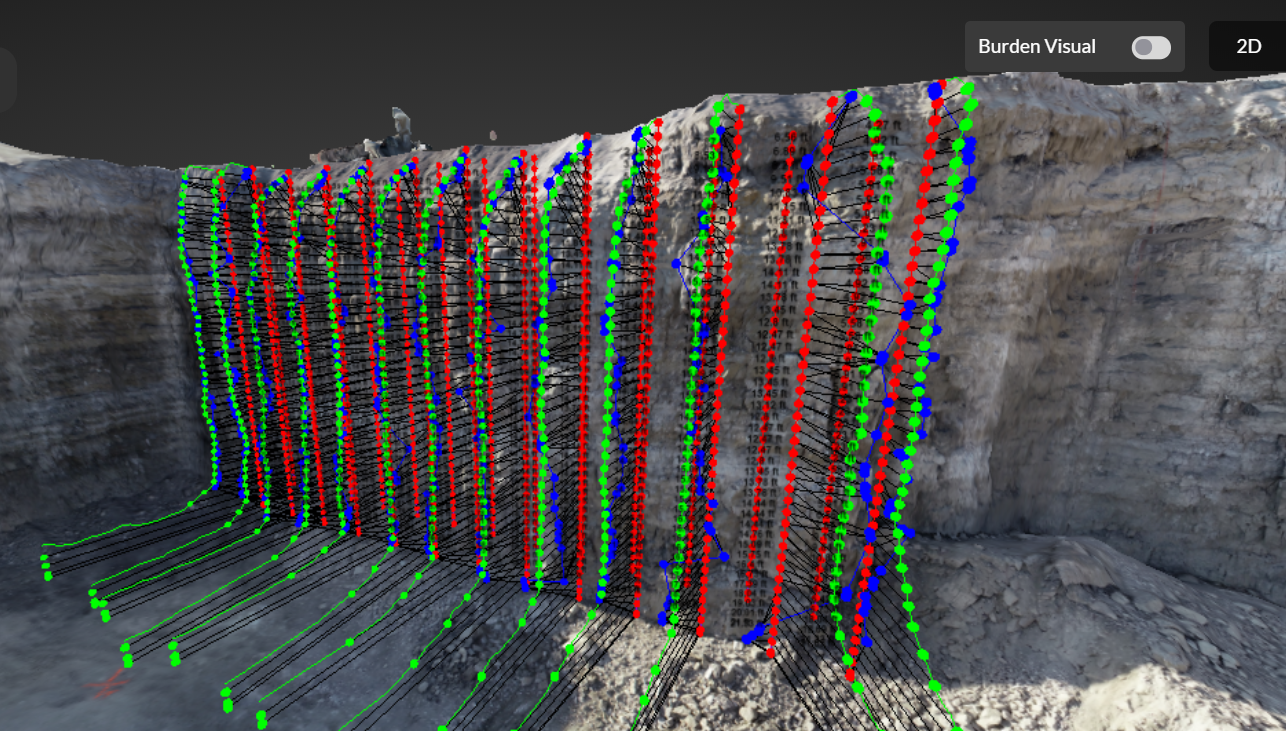 As we see from above image, The blue spheres on the bench face represent the 3D burdens. The green spheres represents the 2D burdens of each borepoint. The app also draws a green curve that represents the profile directly in front of the hole.
Analyzing your burden data:
The Strayos app has a burden visualization tool that can be enabled using the burden visualization toggle option highlighted in red below. Our app can calculate the burden volume displayed in yellow below. All the burden details can be downloaded or printed as reports using the Save Report option highlighted in blue.
The visualization tool helps the user to analyze the bench face. The bench face is color coded based on the burden values to identify any weak points on the face. The threshold for each color can be set based on a threshold burden value. The user can modify the threshold values and thus the shaded region on the model from the input fields as shown above.
Burden Volume:
The app identifies a hole to hole region that includes the bench face and calculates the volume. The volume can be displayed in cubic yards or cubic meter depending on the user's unit settings.
The details can be downloaded as a PDF.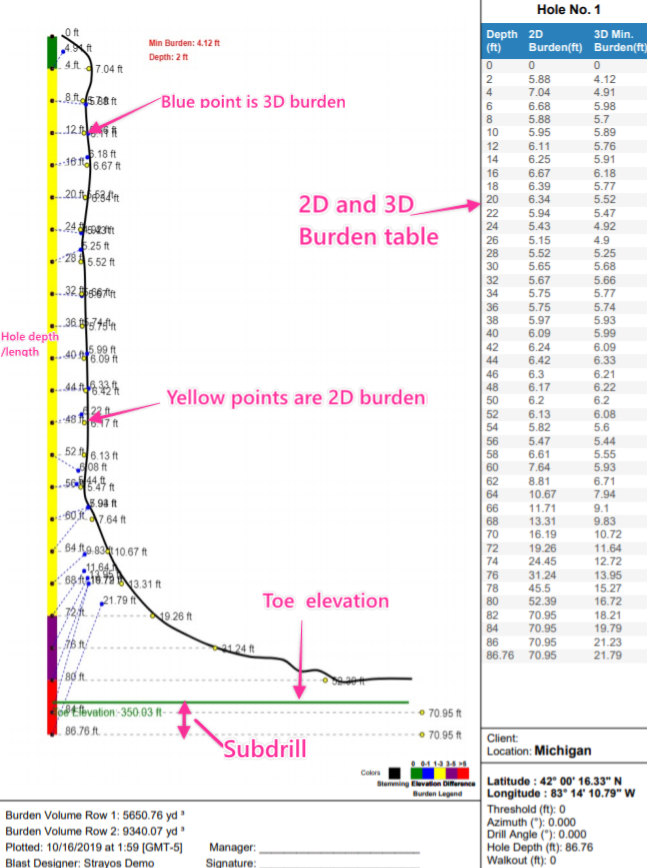 The burden PDF will have a page for each hole displaying a 2D projected view of the hole, hole profile and the burden points. The yellow circles denote the 2D burdens, blue circles denote the 3D burdens and the black curve is the hole profile. The drawing you see above is the 2D projection of the exact 3D drawing of the hole, the users visualizes on the 3D model.