The Elevation heat map allows you to quickly visualize the elevation of your map by use of either our digital surface model (DSM) or our digital terrain model (DTM) heat map tool.

Digital surface model shows heights of all objects within the map i.e it includes machines and trees present in the map. Custom percent settings allow you to explore your elevation data even more carefully through a perspective of the elevation and depth of each parts of the site.
How to use DSM Elevation heat map:
Digital Surface Model and the colorization are done based on the colors assigned for corresponding percent associated with minimum and maximum elevations of the model.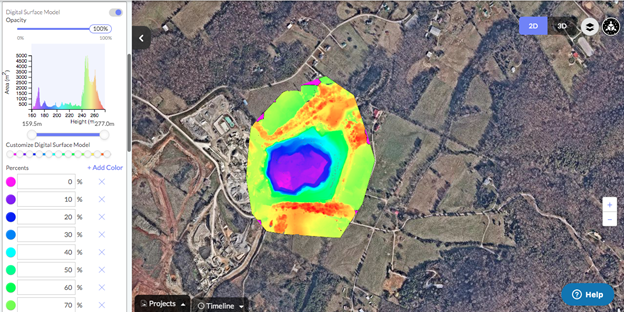 You can customize the colors and percents to set gradient ranges and colors to highlight the potentially critical areas in the map.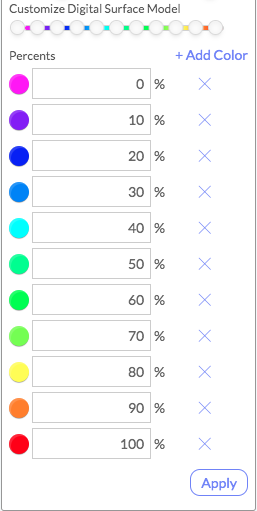 Customization options:
Add one more configuration by clicking on + Add Color
Delete existing configurations by clicking the close button.
Change the colors and the corresponding percents as well
When you update colors or percents, the changes will automatically get updated in the visualization slider and reflect on the map as well.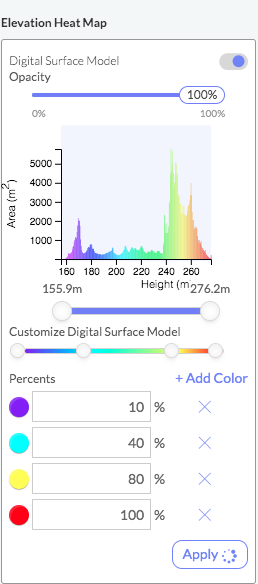 In the above screenshot, we changed percentage of colors and clicked on the Apply button in order to load the updated model visualizations. The map layer also updates according to the customization.