Getting the EPSG/ESRI code from your custom state plane coordinates
When inputting your GCPs, you will need to input your EPSG/ESRI code along with your GCP coordinates. EPSG and ESRI codes are necessary for our system to process your data accurately, which allows for more precise measurements when annotating or analyzing your drone data.
Transforming users' custom state plane coordinate systems into EPSG/ESRI codes is an extremly easy process.
If you have a common coordinate system, such as LatLon or UTM, we have identified the EPSG code for you already. Use these codes directly:
UTM Zone # North => EPSG:32600+# (i.e. UTM Zone 17 N will have EPSG code: 32617)
UTM Zone # South => EPSG:32700+# (i.e. UTM Zone 17 S will have EPSG code: 32717)
If you do not have the above coordinate systems, please proceed with the following instructions:
We will use the following coordinate system as an example: WGS84 Indiana West
2. In the search bar in the top right corner, search the keywords Indiana West. You will be given a list of EPSG/ESRI codes corresponding to the Indiana West keywords, shown below.
Note: *DO NOT* enter the entire coordinate system name 'WGS84 Indiana West' as it
will limit your results, and potentially lead you to wrong EPSG codes.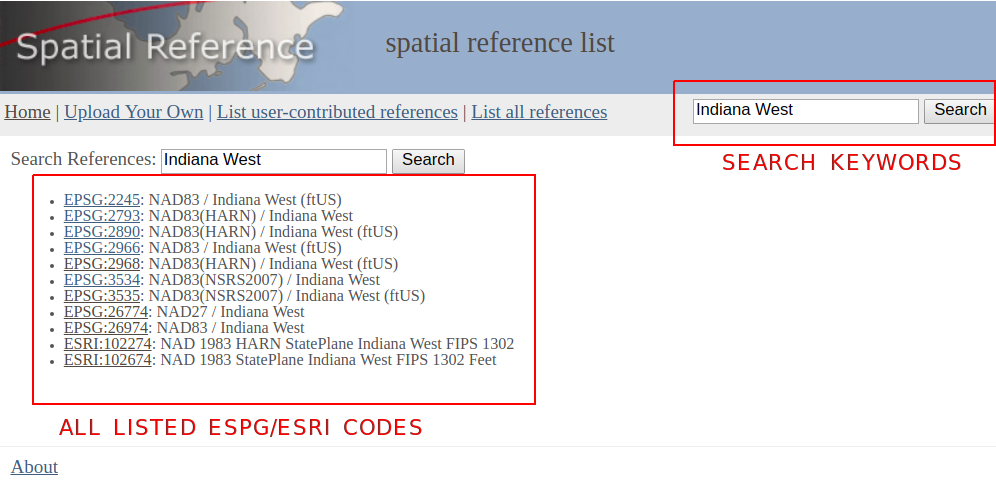 3. Next, visit epsg.io/map, which will pop up a world map with coordinate inputs on the top, and an option to change the EPSG code on the bottom. Click 'Change' for the EPSG/ESRI codes, and search for one of the codes on the list in Step 2 (just the code number, don't include the EPSG or ESRI prefix). If you cannot find a EPSG/ESRI code, search for the next code on the list.
4. Once you have selected an EPSG/ESRI code, it's time to check if your code is the correct code. Input the coordinates of one of your GCP points on the top panel. Left input is Easting, right input is Northing.
Press Enter after you input the coordinates to go to the desired coordinate.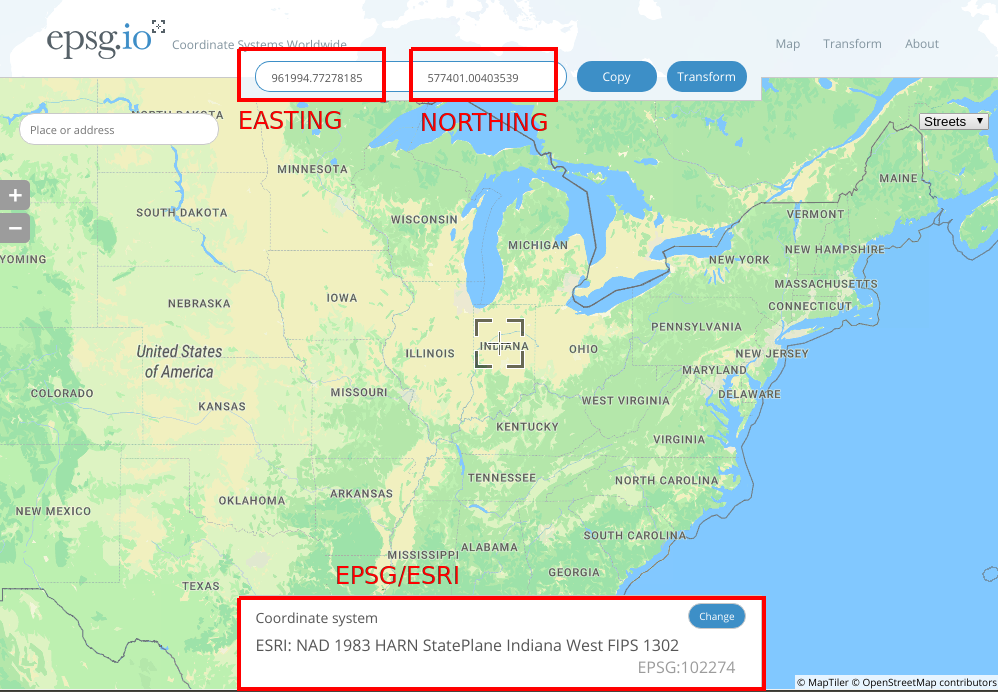 Note: When you scroll on the map, it'll actually move the location scope, so beware. If you want to get a closer look at the location, zoom first, then input your coordinates
5. Check if your location is correct. If yes, JACKPOT, you've gotten your ESPG/ESRI code. If not, repeat steps 3 & 4.
CONGRATULATIONS, YOU'VE FOUND YOUR EPSG/ESRI CODE!