When looking to design a drill plan to a specific floor plane or grade, Strayos allows users to create a floor plane to a set degree or azimuth, and manipulate as needed. To begin, navigate to the drill design module and begin to create you drill plan. This article will walk through creating a drill plan in more detail How to Create Drill Plan in Strayos
Once you approach the last step of the drill plan set up, there is an option to enter a Floor Plane Grade. When entering a value into this field, more options will open to the orientate the plane in a certain direction.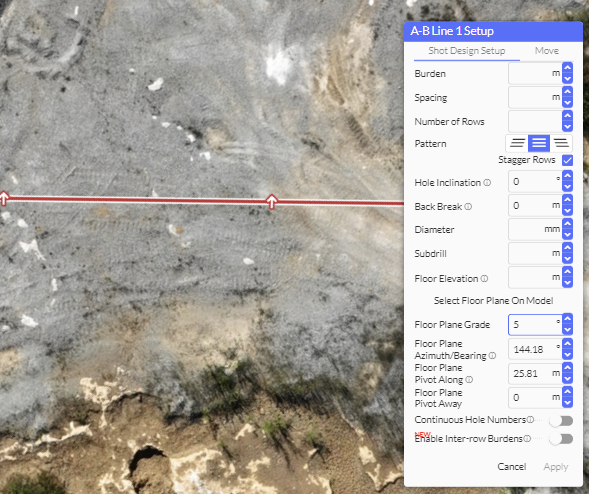 Based on the azimuth or bearing which users design their floor plane to, the value can be entered here. Users can then visualize the floor plane once the drill plan is created. This can be done by selecting the options on the bottom left hand corner of the screen and "Floor Plane Visualization".
This will highlight the floor plane in orange which has been entered from the design. This plane can also be edited or changed to the desired direction, by selecting "Edit Floor Plane". The pivot point will reference the center of the AB line or drill design by default.