When using the Timing module within Strayos, the software will showcase the holes per delay in the user's timing sequence. This feature can be found under the Loading and Timing Module. Note: the shot must have been loaded prior to using the timing module, as with no primer located within the hole, the software will not be able to apply a time.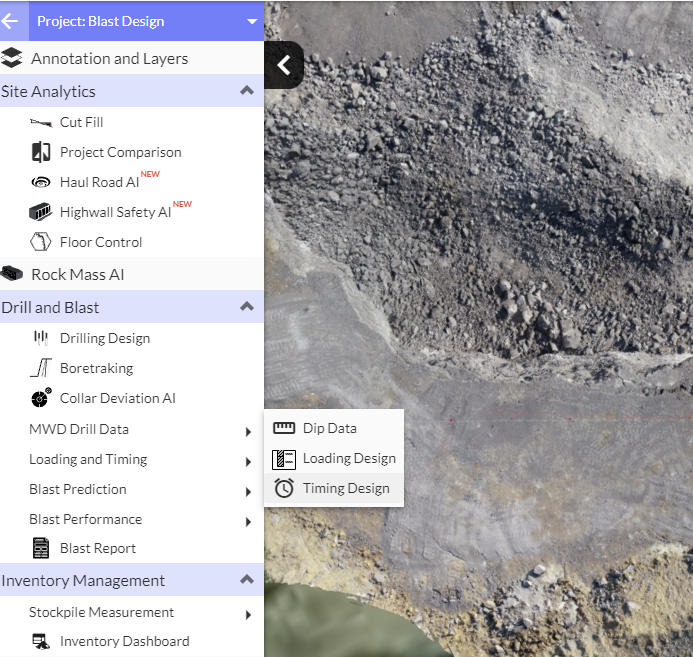 Once selected, the user will need to carry out their timing on the shot. For a Non-Electronic shot, see the example below. Adding an initiation point and choosing the correct hole to hole, and row to row surface delays is all done on the right-hand menu. Here, 25ms Hole to Hole firing is used, with 42ms Row to Row timing being implemented.
When the timing is complete, the options listed in the upper tool bar give the user several views of their timing scheme. We will be addressing the Instantaneous Holes option.

Once toggled on, the user can preset the timing per delay they are looking to visualize. It is set to 8ms as default. In this case, all holes firing within an 8ms window from the start time of the shot to the end time will highlight. This will then correlate to the pounds per delay in further modules within Strayos.

When the delay window is adjusted, the colors representing the specific grouping of holes will also reflect the changes.
The timing interval graph will also showcase the holes per delay in the set interval. When hovering over the graph, the holes will highlight that are within the selected interval on the graph.
Lastly, the firing sequence on the left-hand side will showcase the order in which the holes are firing. The hole name will appear on the left column, with the firing sequence on the right.